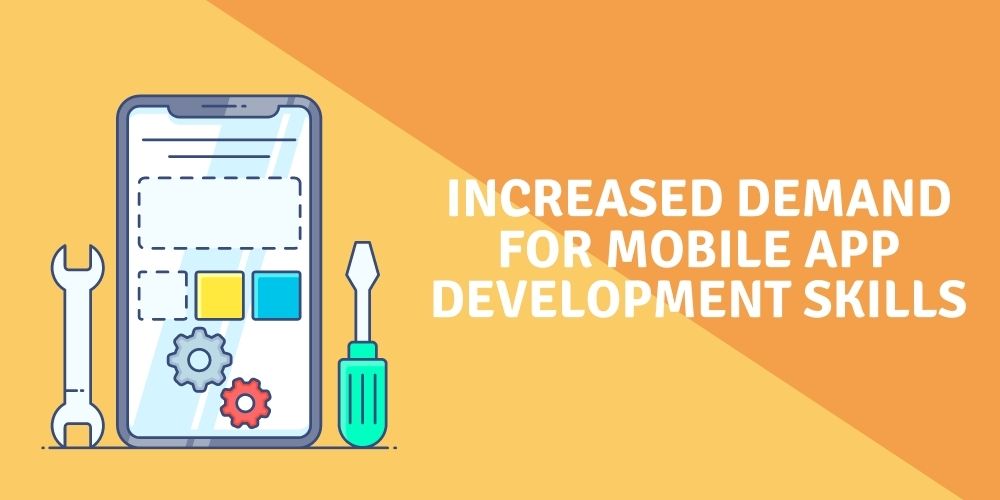 Mobile app sales are expected to reach $99 billion (approximately £75 billion) in 2019, according to a forecast from Juniper Research.
Is it any wonder that mobile app developers feel dissatisfied with how much they are compensated for creating these mobile apps?
We take a look at this story and more of the biggest news out of the mobile app development industry in the past month.
---
Mobile skills now the most wanted in the IT industry
According to a new report from Experis, mobile skills are now the most in-demand for businesses looking to hire in the IT industry.
Mobile roles now account for 28% of all IT related adverts in the UK in Q3 2017, making it the most popular job type in the industry. The surge in mobile skills surpassed web development, which was previously the most popular.
In spite of the growth in the number of jobs advertised, permanent salaries only grew by 1%, and daily rates by 2% over the same period.
Though mobile app development is growing across the tech industry, the results indicate that there is a real disconnect between the increasing demand for these mobile developer roles and the salaries they command.
How are businesses looking to address this issue?
---
Are Low Code Development Tools The Key To Solving The Mobile App Development Skills Crisis?
It's no secret that mobile apps are an essential part of a business, as well as everyday life. According to a recent report, by the end of 2018, an estimated 84% of the world population will be using mobile technology.
Additionally, it's forecast that total revenues from mobile apps are on track to reach $99 billion by 2019.
Mobile app developers are expected to have know-how in app development across the main platforms, experience coding with mobile frameworks including Xcode, Android, SDK, and Windows Phone App Studio, and familiarity with mobile and web development languages and mobile app frameworks.
Project management and communication skills are essential as a mobile app developer too. The combination of skills is proving unattainable for many businesses, and together with the other challenges involved in developing business apps, many companies are apprehensive about committing to them.
What is the solution for businesses to address the shortage in mobile app development skills?
---
Despite smaller share, iOS continues to attract content apps first
Despite Android being the world's most popular operating system, that doesn't necessarily mean it is the first target for mobile developers.
For instance, Instagram withheld from creating an Android version. The set of planning apps from the Omni Group was expensive, but it means the content app has their mobile counterparts only on iOS.
Recently, developers of content-focused apps that run the gamut from the serious to the superficial have launched exclusively on iOS, in spite of having no need for the type of processing and graphics performance that Apple often upholds as a benefit for developers.
What apps have been launched on iOS that have been uniquely content-focused?
---
Google wants to train young mobile developers: launches mobile developer fest in India
In the midst of advancing mobile development, Google held a mobile developer fest in Bangalore late last month to train young students in the newest mobile technologies.
The event aimed to help train two million developers in the country. Google will also be conducting it in leading engineering colleges across 12 states.
India has always maintained the status as a global base of tech talent, but there is a growing need to invest more in skilling India's younger generation, who are interested in learning new technologies.
The day-long fest involved computer science and engineering students gaining insights across a number of product areas such as machine learning, Firebase, Android and Progressive Web Apps.
Students were also able to take part in hands-on code labs sessions and learn directly from Google certified developers.
How else is Google making India a global hub for high-quality mobile developers?
---
Multi-platform apps are one of the key trends in mobile app development
Emerging technology has adapted to the present mobile world and is geared toward evolving mobile app development at a fast pace. Enterprises are looking for applications that can operate across multiple platforms yet still offer an excellent UI.
The increasing need for multi-platform applications is a mobile app development trend that developers should watch out for. It's important for developers to consider where the app's data will be stored when building multi-platform apps since the available memory storage will be different depending on the device.
Mobile app developers can use languages including JavaScript, #C, and HTML5 to develop applications that will please everyone. Using cross-platform apps will help cut downtime and costs for organisations. Providing the app is built correctly, it will only need building once.
What other app developments should mobile developers look out for?
---
Making booking apps as standard a 'no-brainer'
People in today's society are accustomed to being more productive through the use of their mobile apps, classifying them as the collective "go-to" for everything necessary to organise, optimise and enjoy daily life.
Therefore, people are primed for deeper commitment "in-app" at the same time that more marketers are looking past the app to install to drive conversions deeper in the funnel.
This is a dynamic that pushes down the cost to acquire those who will convert and boosts the chances of many app categories, especially booking apps, to win big.
Whether it's planning trips or a night out, most people are reaching for their apps to do it. Booking apps have proven popular for both platforms – iOS and Android.
According to recent data, if you aim to buy low and engage high, it shows that women are not a bargain. In comparison, males are nearly 43% more likely to register and 45% more likely to make a reservation or booking.
How else are apps improving daily lifestyles?
---
What do you think the mobile app market will look like in three-to-five years? Let us know in the comments.
If you're interested in iOS or Android developer jobs, be sure to browse the opportunities we have available around the world.