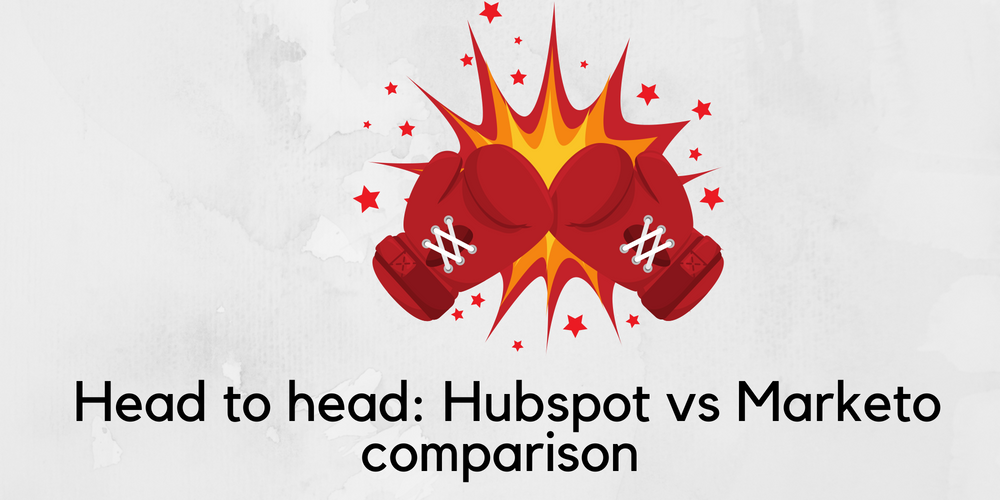 If your business is looking to harness the power of marketing automation software, then there's a strong likelihood that you're asking yourself the question; 'HubSpot vs Marketo, which is better?'
Both are powerful, well-regarded marketing automation tools that can significantly benefit your business, but there are crucial differences that will dictate which of these cloud-based services you side with in the long term. These factors are what we are going to look at over the course of this Marketo vs HubSpot comparison.
Before we take a closer look at what separates Marketo and HubSpot, it may be wise to reaffirm the benefits that can be reaped from bringing in a marketing automation platform.
First and foremost, using a marketing automation platform is a fantastic way to rid yourself of repetitive, time-consuming tasks, such as sending out emails in response to potential leads, posting to social media, and even measuring the success of a campaign. That means you will either have more free time yourself to tend to other aspects of your business, or that you can save money you would otherwise spend on hiring a full-time member of staff to handle these reoccurring tasks.
Either result can go a long way towards helping your business to grow, especially when paired with the powerful analytics and tracking capabilities that automated marketing platforms offer as standard. You can also target more-specific audiences and nurture leads in a multitude of ways.
Marketo and HubSpot are two of the most prominent marketing automation solutions currently on the market, appealing to both SMEs and larger, enterprise-level businesses alike. But what is it that sets them apart? And what do you need to consider before choosing one over the other? Let's take a look.
What are the capabilities of Marketo and HubSpot?
As marketing automation tools, Marketo and HubSpot overlap in several key areas. For example, both will help you and your company to target specific groups of customers, implement marketing strategies across email, social media, web and more, and facilitate lead nurturing. Reporting, analysis, and campaign tracking are also integrated to let you monitor success, or rethink campaigns and objectives according to solid data.
It's important to keep in mind, however, that each platform provides these capabilities in different ways and with different priorities. Marketo, for instance, is best used as a B2B platform with a strong emphasis on nurturing leads, whilst HubSpot tends to focus towards B2C marketing.
Campaign creation is an area in which Marketo is particularly strong. When it comes to creating email marketing campaigns and landing pages for various websites and pages, Marketo's customer satisfaction is always high. This is largely thanks to a comprehensive, yet simple to use, design suite which allows for templates and campaigns to be created with the simplest drag-and-drop actions.
This interface has won Marketo many fans, and once a design and layout is established there are a vast amount of customization tools to get to grips with. Marketo goes deep when it comes to personalization, allowing you to create a landing page or email campaign that fits your brand, design functionality, or just aesthetic. Once your ideal design is in place, it provides the scheduling and automated response capabilities that you would expect in order to streamline your campaign and engage with specific target audience groups.
If you are using marketing automation, there's a good chance that you will have considered implementing a CRM, or customer relationship management tool, to better define and manage your customer data and workflow. In this regard, Marketo comes out strong thanks to its integration capabilities. Marketo can currently be integrated with some of the most popular CRM programs, such as Salesforce, Netsuite and Microsoft Dynamics amongst others. What's more, automatic syncing means that alterations made to data in the CRM or Marketo are instantly translated across to the other program without the need for repeated input.
Marketo's integration is an impressive plus point, but not one that allows it to dominate over HubSpot. Instead of focusing on integration, HubSpot comes prepackaged with its own custom CRM, a feature which goes some way to establishing the platform's image as an all-in-one marketing solution. In fact, HubSpot's free CRM boasts the usual functionality (tracking, streamlining, monitoring etc.) for up to 1,000,000 contacts, with a focus on ease of setup and use. That could swing many in HubSpot's direction when faced with the question of Marketo vs HubSpot, especially those who own a small business or are just beginning their marketing automation and CRM journey; though Marketo is comprehensive and rewards in-depth knowledge, it can be daunting to begin with.
Another feature that will endear HubSpot to smaller companies is the Learning Center, as Andrew Sumitini, Director of Marketing at TINYpulse in Seattle, explains "At TINYpulse, HubSpot is integral to virtually every marketing workflow, from the moment someone visits our website to the hand-off to our sales team.
"On top of these features, HubSpot also offers a robust Learning Center where both new and tenured marketers can get certified in one of the industry's most respected skillsets, Inbound Marketing. As an employee-centric organization, this is incredibly important to ensuring that new marketers start with a solid foundation. Similarly, it's a great way for tenured employees to stay on top of their craft."
Another area of exceptional importance for marketing managers is evaluation. Without evaluation capabilities, it's impossible to learn from mistakes and successes to create campaigns that have the maximum impact. Marketo and HubSpot, like other marketing automation platforms, recognize this and provide a full suite of relevant tools and capabilities.
Those looking to analyze a campaign using Marketo will find the usual power to both track and evaluate, as well as the ability to create reports. These reports can be generated on subjects such as email marketing performance, and the effectiveness of landing pages and websites (including stay time and bounce rates). Reports made using Marketo are fully customizable, ensuring an end result that suits your analytical needs and brand, especially if you make the most of additional reporting extensions to maximize Marketo's potential use.
HubSpot offers much the same functionality, minus the heavily customizable element of reporting, but with a lightness of touch and speed of use that makes it better suited to agencies such as TINYpulse.
"Working as a digital public relation practitioner, I use HubSpot report to monitor and evaluate the results of our PR efforts in increasing the agency's visibility in the market," explains TINYpulse's Tracy Nguyen, an online media relation specialist. "Measuring website traffic and MQL leads by sources (my main focus on referral source) with HubSpot is invaluable."
Both Marketo and HubSpot give users excellent lead management opportunities, albeit with a slightly different focus. Marketo allows for lead nurturing opportunities based on engagement, demographic and other factors, with targeted follow-ups and alerts to the marketing team sent automatically. On the other hand, HubSpot places more emphasis on providing lead intelligence, gathering relevant information from across channels to give you a better understanding of your customers and those you engage with online.
Kimi Corrigan, Senior Manager, Marketing Operations at Duo Security, believes that using Marketo for the customer journey has been essential to growth.
"While filling the funnel is important, plugging holes in the funnel is even more, and that goes a long way and is a much better way to treat new prospects and customers," says Kimi. "We've seen the productivity of our ADR team increase and marketing-qualified leads grow by 113% year-on-year with this project completed, thanks to Marketo."
Social media marketing management is also comprehensive across both Marketo and HubSpot, so, whichever way you lean in the debate of Marketo vs HubSpot, you can rest assured that either will allow you to reach customers and audiences across the likes of Facebook, Twitter, and Instagram amongst others. HubSpot comes with blog management tools that are likely to prove attractive to SMEs, a feature that is noticeably absent from Marketo.
Ease of using Marketo and HubSpot
Ease of use is likely to be a deciding factor when it comes to Marketo vs HubSpot and choosing the right option for your business. In fact, the level of skill involved in both using and mastering Marketo and HubSpot is one of the areas which really separates the two marketing automation platforms.
It should be no secret after reading the above that Marketo is a more complex and difficult tool to master. However, those who can put the time and effort into learning to use the many functions and options that Marketo has to offer will find that the rewards are worth it.
Design-wise, Marketo employs a modular approach that splits the core capabilities into labeled sections; Consumer Engagement, Marketing Automation, Marketing Management and Real-time Personalization. Such a clearly defined approach to key areas is vital in ensuring that Marketo is never too overwhelming for new users, or those switching from HubSpot to Marketo.
It is important to acknowledge though, that Marketo takes more of a 'deep-dive' approach to marketing automation, laying on a wealth of customization and optimization abilities from the outset. Unless you or an employee has experience with marketing automation then you may struggle to get the most out of the program initially. Marketo is a tool for experienced specialists, and trying to test a marketing automation strategy for a small business is likely to do both your business and Marketo a disservice.
HubSpot, on the other hand, has a broader remit and is therefore better suited to SMEs, to establish and run a hassle-free marketing automation operation without using as much in the way of resources. The all-in-one approach by which HubSpot defines itself is evidence of this.
HubSpot places workflow, blogging, lead management, analytics, and other tools under one virtual umbrella, not to mention the custom CRM. While it may not feature as many options for personalization and customization as Marketo, it does include clever functionality that is designed to make life easier for those operating on behalf of multiple clients, or running the marketing automation program for a small business.
For example, HubSpot comes with an SEO keyword tracker, and the ability to improve your ranking through insights that allow you to tailor content specifically for SEO purposes. Social media posting is also kept simple and efficient, with an easy-to-navigate system allowing for post scheduling, engagement monitoring and account switching.
While Marketo and HubSpot may seem similar, choosing the best platform is realistically likely to come down to a choice between depth and simplicity. There is one further consideration though, and that's HubSpot vs Marketo pricing structures.
HubSpot vs Marketo pricing
It could be argued that the decision of which marketing automation tool to invest in, whether that be Marketo vs HubSpot or another platform, should not be made based on the price of each option. After all, if you make the right choice and invest time as well as money then the dividends will cover the initial outlay. Marketo's pricing is a three-tier system, with Spark, Standard, and Select levels unlocking at each step. Each of Marketo's tiers gives users access to 10,000 contact records up to unlimited contact records, whilst the amount of sales users increases from five to 10 and finally 20 users. Enhanced and advanced tools are also made available when you purchase the Standard and Select packages. The Select tier also includes time-series data warehousing, role-based permissions, and social sweepstakes and referrals amongst other benefits. The cheapest option, the basic Spark product, comes in at $895 per month, the Standard is $1,795, whilst the high-end Select option will cost $3,195 per month.
Keeping in line with its drive for maximum appeal, HubSpot comes out fighting in the battle of Marketo vs HubSpot thanks to two extra pricing options. The first is a completely free version which limits usability to lead analytics and flows, collected forms, contact activity and management and insights. Starter is the first cost option ($50 per month), and adds custom form fields and phone/email support whilst removing all HubSpot branding. From there, Basic costs $200 per month, Professional $800, and Enterprise $2,400. Each level gives you access to around 25% more features, all of which you can see below.
Making the choice between Marketo and HubSpot
As you can see, attempting to answer which is best in terms of Marketo vs HubSpot is not easy, and in fact does not have a definitive answer. Marketing automation tools can bring untold benefits to your business, regardless of its size, but the decision of which platform to invest in will be crucial. Both Marketo and HubSpot may seem similar on the face of things, but it's clear that each is sufficiently different thanks to varying focuses and consideration of skill levels. Hopefully the above will have helped you to see which platform can best fit the needs of your business.
Want to find out more on which marketing automation software is right for your business? Sign up for the FRG Technology Consulting blog to receive the latest news direct to your inbox.