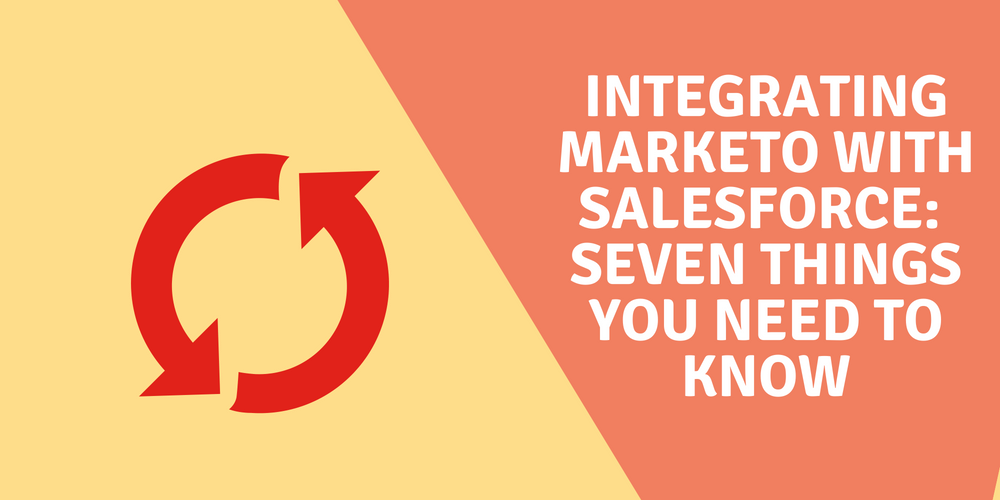 One of the biggest benefits of choosing Marketo as your means of marketing automation is the ability to integrate Marketo with Salesforce. While some marketing automation platforms come packaged with a streamlined, sometimes overly simple CRM, Marketo instead gives you the ability to use it alongside, and combine it with, a number of the best CRM tools on the market today.
Marketo is arguably the strongest marketing automation program available, so the ability to effortlessly pair it with the Salesforce CRM is extremely welcome. For those who avoid using a custom CRM that lacks the ability to integrate with existing CRMs, Marketo has cemented its position as a marketing automation tool for those who like to do things their way. Marketo has, for example, a huge raft of customization and personalization options that allow users to craft their campaigns more carefully, and more in line with a company's unique needs than the majority of its competitors allow.
Aligning Salesforce and Marketo will create an extremely powerful CRM and marketing automation platform, a system that will allow your business and marketing team to identify and reach more targeted audiences and customers with greater ease, but there are questions that you need to know the answers to before starting your journey with Salesforce and Marketo.

If you currently operate Salesforce and are considering integration with Marketo, there's a chance that you may still be wondering just what benefits merging the technologies can bring. To answer that question, let's look at the overall positives that your business can reap through using Marketo.
As a marketing automation tool, Marketo offers the following benefits to your business:
Social Marketing – Social media is obviously a huge part of any marketing strategy today, and that's why Marketo gives you access to comprehensive tools that can be used across all the relevant platforms and channels. Using Marketo, you can set up and manage contests, referral campaigns, and other social media activities to keep followers engaged and bring new audiences to your business.
Analytics – Analytics demonstrate the effectiveness of your approach and tactics. With Marketo's analytics tool, you will see where the most qualified leads are coming from, allowing you to better convert them to sales and business revenue. It also offers customizable reporting on landing pages, email marketing, web tracking, and overall campaign performance.
Lead Management – With Marketo, nurturing leads based on engagement, product interest, actions, and demographics becomes second nature. Automatic, targeted follow-ups can be activated based on particular behaviors, while alerts notify your sales team when buying behaviors are detected. You can even establish automatic replies to leads from specific sales team members for a more personal approach.
Email Marketing – Marketo's drag-and-drop interface means that creating an attractive email marketing template or campaign could not be more simple. Scheduling features are also included so that you can plan and implement your campaigns in advance.
Landing Pages – Landing pages and forms can also be created with ease thanks to the same drag and drop approach. Landing pages are a great way to capture potential leads, and Marketo's various testing tools, personalization capabilities, and focus on ease of use mean that you can generate excellent landing pages that work for your business without difficulty.

Since we've laid out the benefits of Marketo, it seems only right and fair to examine Salesforce in the same way. A high-end customer relationship management (CRM) tool, Salesforce can help to boost business and information management through invaluable abilities and features:
Enhanced organization and communication methods – Salesforce CRM stores data and interaction histories on customers as a matter of course, allowing you to build a more enticing and comprehensive customer experience that will keep them engaged and brand loyal. Cloud storage means that accessing individual customer information files is always convenient, so whichever member of your team is assisting a customer they'll have the right details to hand regardless of the device they are using at the time.
Automation for efficiency – Thanks to automation, the most time-consuming and repetitive tasks to spring from the sales process can be handled without a thought, freeing up your sales team to use their time focusing on the important things, such as customer interaction. Thanks to Salesforce's marketing automation capabilities, the likes of reports, forms, and other minutiae can easily be generated and completed by the system.
Ease of use for teams – Salesforce provides its users with a hub to view any and all automatically stored communications, such as phone details, emails, and calendar entries. This space can be shared across multiple teams, allowing numerous members of the sales and services department to use the same data throughout the client journey and increase the completion rate of tasks and goals.
Analytical reporting – Salesforce CRM recognizes that access to reporting and analytics can be key to running successful campaigns and maintaining a happy, engaged, customer base. With Salesforce's tools, it becomes easier to use gathered information to set sales goals and identify new lead opportunities, while dashboard personalization allows you to put your hand on relevant information more quickly.

Integrating Marketo with Salesforce is essentially a way to supercharge the sales process and focus the work of the sales team, making it quicker, simpler and more effective to identify leads and channel them through the sales funnel. Lead scoring in a Marketo-Salesforce integration will allow you to recognize customers ready to purchase, decide whether you wish to engage them further and when to do so, and assign positive and negative scores to individual customers based on behavior, location, and other factors.
This will, in turn, let you highlight the most promising leads, which can then be tracked more closely. Integration of Marketo and Salesforce means that automated actions, such as emails and targeted campaigns, can be deployed as a matter of course.
The process of combining Marketo with Salesforce itself is simple thanks to Marketo's tailor-made apps. All you have to do to get started is enter your CRM credentials and your custom fields and objects will be synced between the two platforms immediately.
How long is the sync cycle?
Marketo integration with Salesforce sees a two-way sync cycle between the two programs occur every five minutes. This is a default sync interval, and if you prefer you can choose to extend the time between sync sessions with a quick request to Marketo support. It should be noted, however, that five minutes is the minimum period between syncs, and you cannot request that it be shortened.
Obviously, syncing will take less or more time depending on how much data is being synced. That means that syncing finishing time will vary, particularly as your business increases and your databases grow to include more-actionable data. Due to the fluid nature of finishing times, the next cycle will begin five minutes after the previous sync cycle has been concluded to avoid any overlap issues.
What elements are synced?
As part of the Marketo sync-to-Salesforce process, a number of elements are transferred and shared between the two programs, making it easier for your marketing team to efficiently create customer journeys and provide support and relevant content when required.
With Marketo in Salesforce, the following fields are synced as standard:
Customer objects
Contacts
Tasks & events
Leads
Campaigns & members
Accounts
Opportunities & roles
User & lead queue
As you can see, the list of objects that is synced is comprehensive, and with the five-minute sync cycle between Salesforce and Marketo, you can be sure that any project or lead that your team is working on will be kept up to date and easily accessible.

The EU is about to usher in the biggest shake-up to data security laws for 20 years, with the General Data Protection Regulation (GDPR) bringing a raft of changes to how data is gathered and stored. While these changes affect those companies based in Europe the most, they can still have a meaningful effect on anyone (in the US or otherwise) who aims to reach customers based in the EU. 'Privacy by design' are the watchwords of the new GDPR rules, so for many, it will be necessary to review customer touchpoints such as the integration of Marketo in Salesforce.
Ian Gotts, founder and CEO of Elements.cloud, explains further: "The GDPR Articles 5 & 7 require you to be able to show that you have valid consent for a specific type of communication and that it has an expiry date. Because you can have many consents for any customer that are active, and then expire or are unsubscribed, you cannot simply add a few extra fields to the Salesforce Lead (or Contact) or the Marketo list. Instead, you need a separate set of consent records for every customer in Salesforce.
"The challenge is keeping these consents up to date when a customer unsubscribes from a Marketo mailing. None of this impossible but it does need to be thought through at a technical level to understand the best way to implement it."
Despite these challenges, Ian believes that the changes being brought about by the GDPR need not be seen as restrictive: "The bottom line is that the GDPR is forcing us all to review our marketing processes which will help us drive out waste, adopt best practices and ultimately makes us leaner, fitter and stronger. Think benefits, not fines."

While it is not currently possible to decrease the time between sync cycles to under five minutes, there are steps and actions that you can take to ensure the syncing process takes as little time as possible. By following these actions, you will optimize the Marketo sync to Salesforce:
Carry out batch updates during downtime – Trying to complete large-scale, bulk data updates during working hours is a surefire way to slow down the system, leading to widespread frustration for both the sales/marketing teams and customers alike. Better then to save large data updates to after office hours, such as evenings or weekends.
Deselect unnecessary records – Sometimes the whole team does not need to see the entire picture. Taking simple steps such as highlighting the relevant fields needed by marketing (for example) and syncing only those will speed up the process.
Hide unneeded records – Similarly to the process of deselecting records from the Marketo in Salesforce integration user, it will help to increase sync speed if you hide a number of records. Identify which ones the whole team does not require access to and choose to only sync them outside of office hours. That way, the sync between the two products can be completed in the shortest possible time.
Hopefully, any questions that you may have about Marketo for Salesforce have been answered, so what are you waiting for? It's time to start your journey towards more effective, efficient client relations and marketing with Marketo Salesforce integration.
Want to know more about how Marketing Automation can help your business to succeed? Sign up the FRG Technology Consulting blog to receive the latest advice right to your inbox