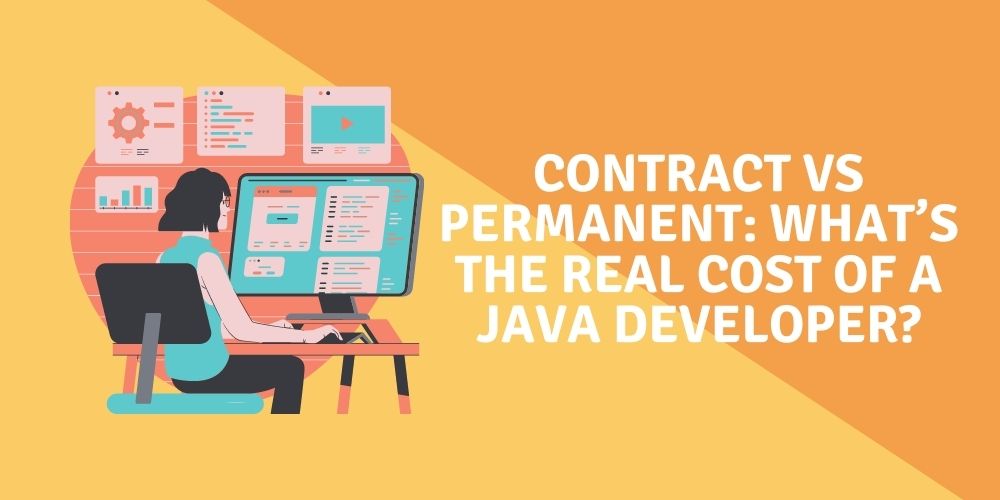 Hiring a Java developer can be the final piece of the puzzle when building out your development dream team. But before they sign on the dotted line, you'll want to know the salary your business is expected to pay.
Creating a Java application is a complicated process. To get the job done right, you'll need to find developers with the right Java skills.
If you're actively recruiting, the cost and Java developer salary will be something playing on your mind, as will whether you should choose a contract or permanent hire. The good news is the software industry is full of talent, so you'll never be short of options.
But if you need a helping hand, we have all the bases covered when it comes to recruitment and the costs you're likely to face.
Do I need to hire a Java developer?
In the digital age, the answer to that question is likely to be yes. Businesses are relying more and more on technology to remain ahead of the competition, and to harness its power you'll need to the right Java developers on hand.
But the number of developers and the skillset they need should be judged on a case-by-case basis. Every business will have different requirements and strategies for how best to embrace the new methods of digital change.
Businesses of all sizes are hiring developers as a top priority, with in-house development teams becoming standard practice as organisations look for a way to digitally overhaul their business processes and stay competitive.
Reports show Java is the most used programming language in the business world and because of this, having a developer with core Java skills is vital.
Finding the right person is never easy. You'll need someone with the right skills and expertise to get the job done, but who'll also fit comfortably with the rest of your development team.
Will I need a Java developer for every niche?
One of the most common mistakes when hiring is to assume you'll need a developer to fill every minor role. Bringing in a well-rounded developer can be more beneficial and also ensures all tasks will be completed.
To avoid hiring people without the right skills, you'll need to map out all the Java requirements you need to complete a project. Not only will this keep your development on track, but it'll also mean you only spend time interviewing candidates who meet your specifications.
When you start the development process, you'll find some tasks that need more than one skillset, so it can be more cost-effective to hire a full stack developer.
Choosing the core members of your development team should be your first task and only after you have these pillars in place should you expand your search and budget to bring in specialists.
Should I hire a contract or permanent developer?
When you begin your recruitment journey one of the questions you should be asking yourself is whether hire to a permanent Java developer or a contract developer.
For your entire development project to be successful every one of your developers will need to work together. Your hiring manager will need to find someone who not only matches your company vision but also works well with other developers.
So whether you've decided to dive head first into the contract market place or stick to permanent to hire a Java developer, here is all the information you'll need to know.
The cost of hiring a permanent Java developer
To future-proof your business you'll need developers who can get to grips the newest technology quickly, and will stay put within your development team to see the implementation through.
Pinpointing the perfect developer can be a time-consuming and tricky task if you're unsure where to look. Using a recruiter to assist the hiring process can be more beneficial as you'll find the perfect developer and form a new recruitment partnership you can call upon in the future.
Highlighting the exact skills, you need to get a project up and running will work in your favour because you'll be able to find a developer who matches your exact requirements.
One thing you'll need to remember is the higher level of expertise required by the developer, the higher the salary you'll need to pay.
But if you're still dipping your toe into the recruitment talent pool, we've picked out the costs you can expect to face whether you're located in the North or the South.
The North
The Java marketplace is booming in the North, as most businesses require the services of a Java developer to cope with their digital expansion.
If your business is looking to bring in some new blood straight out of university, or a junior Java developer whose skills you can build on, then expect a starting salary to be around £25,000.
But if you're looking to move up the hiring ladder and get more bang for your buck, a mid-level developer could be what you need. These devs have detailed knowledge of Java frameworks alongside core Java skills. To hire one of the programmers, it can cost you between £35K–£40K.
Hiring a principal developer or someone to lead your development team can increase costs depending on your industry and the skill level you're after.
With an average salary of between £40k—50k, a developer of this level should have the right skills and need little guidance from the rest of your team. But if you're looking for a developer with niche expertise, expect that cost to inflate to £60K and above.
The South
If your business operates in the South and near tech hotspots like London, the cost of hiring a development team can rise above UK averages.
You'll need to increase your recruitment budget to attract developers in these areas, even when hiring junior developers—the cost of a Java developer straight out of university and with limited professional experience starts at £30K.
Green developers can be great building blocks for your team, especially if you're an SME, but to cover the workload you may need to hire multiple developers to make up for lack of practical experience.
Going for someone with more experience, although it can see the initial salary rise to somewhere between £40k and £50k, can be more beneficial for your business as they'll require less training.
Hiring a permanent developer: what our salary survey had to say
| | | | |
| --- | --- | --- | --- |
| | Junior | Mid | Senior |
| Java/ JEE developer |  £25,000 |  £42,000 |  £60,000 |
|  Java Architect |  – |  – |  £82,000 |
|  Full Stack Developer |  £25,000 |  £36,000 |  £45,000 |
*Information taken from the FRG Technology Consulting 2018 Salary Survey

Cost comparison: why do I pay more in the South?
Whether you're a large or small business, statistics show the cost of hiring in the North and South differs due to the cost of living associated with different parts of the UK.
The North/South divide is not a new thing in business; the Office of National Statistics identifies that the average wage in London can reach up to £800 per week – with those in the North potentially earning half of that.
But it does mean that whichever developer type you go for, you'll have to pay more to secure their services in the South, but just because there is a difference in price doesn't mean the skills of a developer will change.
A developer who plies their trade in Newcastle will have the same core Java skills as a programmer working in London. There may be a difference in their expertise due to their career path, but ultimately, they'll be able to do the same job.
Hiring a contract developer
Hiring a contract Java developer will take you on a different journey to that of a permanent hire.
Going down the route of hiring a contract developer isn't for everyone. It can come down to the tasks you need completing and the level of developer you're looking for.
The initial cost shouldn't come as too much of a financial burden; junior level developers typically charge around £200 per day.
Going for a mid-level developer can set your business back around £300 per day, but you get what you pay for, and with a more senior Java professional you're likely to gain access to a broader range of skills.
Of course, the cost can increase if you need a developer who has experience with a niche framework, and it can set you back £350 per day if you need someone who knows front-end tech as well as backend. Hiring someone with extra skills and frameworks will inflate the costs; these kind of specialist Java developers can charge up to £500 per day, so you may need to be ready to stump up some cash.
That said, if you know you're aiming to hire the best of the best, no doubt you'll have the capital set aside to bring in a programmer from the upper echelons of Java development who can hit the ground running.
Hiring a developer of this calibre comes at a cost, with fees ranging between £600-700 per day, and while you may feel as though this can be expensive, it can be more cost-effective in the long term.
A developer of this level will come into your business and get the job done quickly. But they'll also be able to pass on knowledge to your internal developers, which can benefit your business in more ways than one.
Our advice if you do decide to go down the contract route is to hire a full stack developer who can do it all. You can end up paying more in the short term, but if you calculate the costs of hiring two developers for front- and back-end tasks, you'll be saving yourself some money.
Hiring a contractor: what our salary survey had to say:
| | |
| --- | --- |
|  Developer Type | Cost |
| Java / JEE Developer |  £400-650 |
|  Java Architect |  £500-650 |
|  Full Stack Developer |  £350-650 |

*Information taken from the FRG Technology Consulting 2018 salary survey
Should I use a recruiter?
The Java marketplace is vast; there are so many developers available that if you're unable to delve deep into the talent pool, you'll miss out on top developers.
That's where recruiters come in. By using the services of a niche recruitment consultancy, you get to open up new search avenues to find the ideal candidate for you.
Offering specific expertise, including extensive industry knowledge and a database of available candidates, they'll also take the strain off your internal hiring team.
Every day your business spends recruiting will mean removing someone from everyday tasks. This won't only cost you time but also money, as it can cause project delays.
A recruiter can turn around a hire within a few days, and find the best developer to suit your exact needs without breaking the bank.
Hiring a development team is a huge decision that shouldn't be taken lightly. It can take a significant amount of effort, and if you're still struggling to find your perfect candidate, then it could be time to call in the experts.
Free expert advice for your next Java hire. Have all your recruitment questions answered by our experts at FRG Technology Consulting.