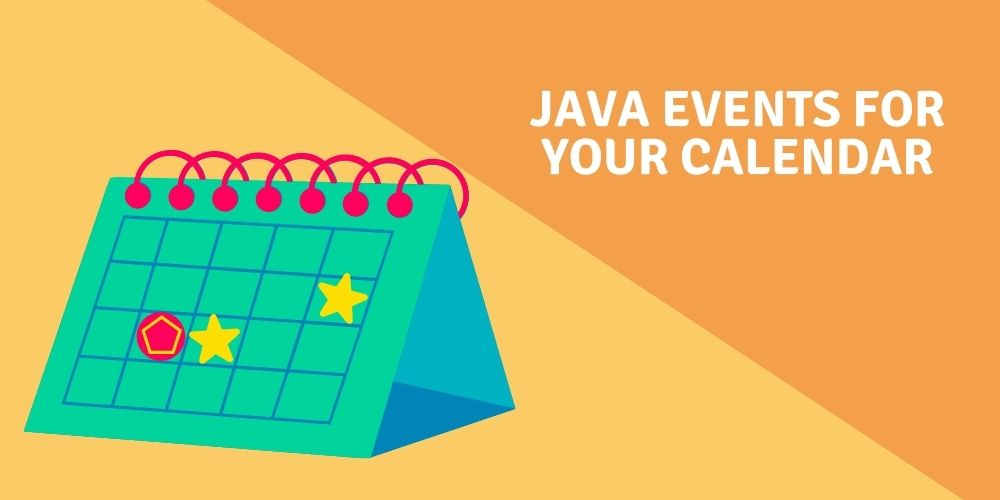 Whether you're looking to brush up on your programming knowledge or learn new skills to help you advance in the industry, you're bound to find a Java event that suits your needs in 2019.
We've rounded up some of the key dates in the Java calendar; events where you can pick up on the latest Java trends, find new networking opportunities, and source new products to speed up your development processes.
We'll also be adding events to the list as they're announced, so keep an eye on this page for all the updated details.
Java Events in the UK
---
 4–8 March 2019 (Conference), 7–8 March 2019 (Workshops)
The Queen Elizabeth II Conference Centre, London
Attracting software developers from all over the globe, QCon plays host to over 140 speakers from businesses such as Uber, Google, and Spotify. Offering 17 additional workshops for participants to attend, and 18 editorial tracks, it's one conference you won't want to miss.
May
---
8–10 May 2019
Business Design Centre, Islington
Welcoming 130 speakers across the two-day event, Devoxx UK is a top-class conference where developers can learn and gain product inspiration. Billed as a strong community event, the conference has been built for software developers by developers.
October
---
7 –10 October 2019
Business Design Centre, London
The must-attend Java conference for developers based in the UK, JAX London attracts software engineers from across the globe, and includes 60 workshops, sessions and keynotes where attendees can learn the latest tips and trends from the industry.
We'll be bringing you more JAX news as the event draws nearer, so subscribe to the blog for the latest event news and updates!
Java Events in Europe
2–3 February 2019
Brussels, Belgium
Gathering thousands of open-source developers under one roof to share ideas and collaborate on projects, FOSDEM is a free event where developers can meet under one roof to discuss current projects and the newest innovations and technical expertise in the open-source world.
March
---
19–21 March 2019
Phantasialand, Bruehl
The sixth annual JavaLand conference will take place in the exciting Phantasialand theme park, mixing business with pleasure for all attendees. Packed full of seminars and workshops from international speakers, developers will also get the chance to use their newly gained knowledge at the subsequent training day.
16 March 2019
Silence Istanbul Hotel & Convention Center Ataşehir, Istanbul
Established by the Java Istanbul user group, Java Day includes 24 sessions on four parallel tracks to help software developers improve their skills and technical expertise. Focused on the newest technologies to hit the sector, including DevOps, Agile and Mobile, it provides excellent networking opportunities for businesses and developers.
April
---
10–11 April 2019
Dublin, Ireland
One of the largest tech conferences in Europe, the Dublin Tech Summit brings together some of the most influential people in the technology industry for an exclusive two-day event. Super early bird tickets are available—head over to their website if you want to take a look at a trailer of what's happening.
17–19 April 2019
Paris, France
Devoxx continues its global expansion into France, allowing developers to participate in hands-on workshops and top keynote speakers. The conference has no strict agenda, so attendees are free to attend all the sessions that suit their needs.
May
---
14–17 May 2019
Park Plaza Victoria, London 
An event for both Java and DevOps professionals, this conference focuses on the newest technology in the sector including continuous delivery, microservices, the cloud, and the open source Kubernetes platform.
With six tracks across four days of workshops, sessions, and the all-important keynote, over 40 speakers are expected to attend, so you'll not be short of chances to learn new skills.
15–17 May 2019
Krakow, Poland
Focused on Java, JVM-based technologies, this event offers a special focus on the Ruby and Groovy programming languages, so it's perfect if your business chooses to utilise one of those as its primary development tool.
15–17 May 2019
Marbella, Spain
An international rendezvous for developers who work with DevOps and Big Data tech, JOTB is a conference where you can learn and share your experience of using the latest technology in the sector, all the while topping up your suntan on the beach.
23–24 May 2019
Krakow, Poland
The largest regional conference that specialises in development methodologies such as lean, Scrum, agile and Kanban, ACE is the conference to attend if you want to learn how to build software better. Featuring talks on UI, product management and UX, there are numerous workshops you can also attend to hone your skills.
29–31 May 2019
Riga, Latvia
The biggest technology conference to be hosted in the Baltic States, Riga DevDays is a three-day event that highlights all the latest talking points in the Java programming language, DevOps, Cloud, and SQL. Bringing experts together under one roof, it allows developers to attend workshops and showcases to learn more about the newest additions to the programming landscape.
June
---
11–14 June 2019
Amsterdam, Netherlands
GOTO is a conference designed by software developers for their industry counterparts. With talks covering a range of topics including security, programming languages, and blockchain. Returning for its ninth edition in 2019 it's certainly a conference not to be missed if you work in any of those sectors.
September
---
11–19 September
Oslo, Norway
Java is big, so having thousands of Java developers under one roof takes a big event. The largest European community-driven conference for modern developers, JavaZone returns for the 18th time in September, and is currently on the lookout for speakers.
For developers looking to soak up all the Java action, there were 142 available sessions in 2018 and this year's conference promises to be just as immense.
Java Events in the Rest of the World
February
---
Conference: 20–22 February 2019
 Expo: 21–22 February 2019
Workshops: 20 February 2019
Hiring Mixer: 20 February 2019
Hackathon: 23–24 February 2019
San Francisco, CA
One of the biggest weeks in the developer calendar you'll need to be quick if you're looking to snap up a ticket for this event. With over 8,000 expected attendees, it is the largest technology-neutral conference in the state and is packed full of talks on popular frameworks and languages, AI and the future of developer tools.
March
---
6–8 March 2019
Atlanta, GA
A three-day event that starts with a day of 12 optional workshops, DevNexus is a conference that connects developers from all over the planet with the aim of providing affordable education and promoting open-source values.
---
1–9 May 2019
Cleveland, OH
If you're looking for an exclusive Python-only event, then PyCon is right for you. Operated by the Python Software Foundation, it gives developers all the latest insights into the programming language, and what users can expect over the coming year.
22–23 May 2019
Broomfield, CO
A developer-orientated conference, GlueCon focuses on providing the latest technical information on the biggest trends in the software development and tech industry. Entering its 11th year, this offers the perfect opportunity to grow your network.
June
---
24–28 June 2019
New York, New York
New York developers, sign yourself up for QCon if you want to improve your expertise of the Java programming language. QCon is a place where developers can connect with their peers and learn something new, and with 15 available tracks, there's something to suit everyone's skill set.
Over 140 industry speakers are expected to attend the 2019 edition of the conference, providing insight into the latest industry trends across two days of talks and workshops.
July
---
8–11 July
Hong Kong Exhibition Centre, Hong Kong
The largest tech conference in Asia heads to Hong Kong this summer, and it's a must-attend event for all those who work in Asia's tech sector. Produced by the team behind Web Summit in Europe, the conference is set to attract over 350 speakers across three days.
Oscon (Open Source Convention)
July 15–18 2019
Portland, OR
The Open Source movement is very prominent in the software development world, and OCSON is an event that brings together businesses and developers who are part of that all under one roof. Unlike other dev conferences, this focuses on the areas of innovations in the open-source world and the top new projects available.
July 16–19 2019
Denver, CO
Bringing together all of the industry leaders under one roof, UberConf tackles all the latest topics in development relating to Agile Development including test-driven development, continuous development, and code quality. Allowing developers to further develop their skills with Java, it's an event you won't want to miss.
---
We'll keep updating our list when new Java events, dates and locations are confirmed. Please get in touch if you think we've missed a must-attend event off our list!
Looking for your next Java career mover? Find a job that suits your exact needs whether you're looking for a permanent or contract position.