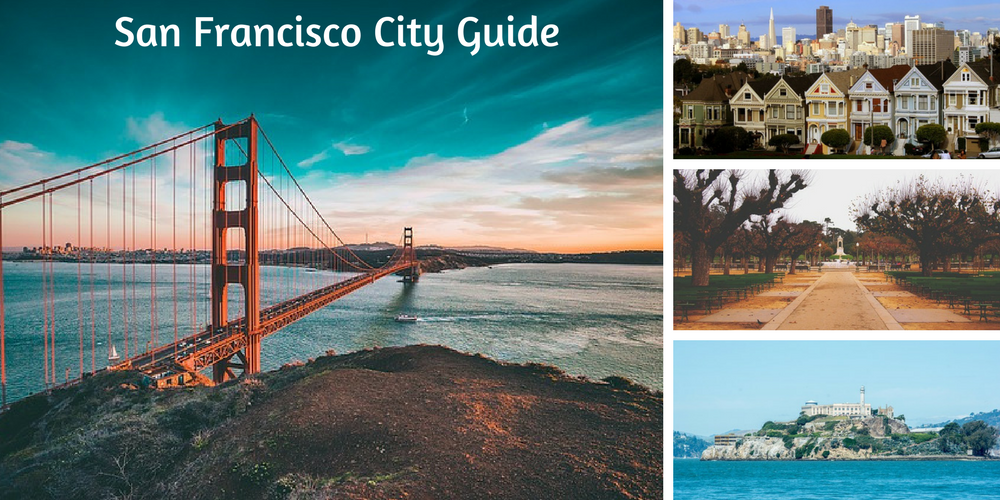 If you are spending time in San Francisco for Marketing Nation Summit 2018, you should definitely go out to explore the city! With hundreds of attractions, eateries and more, you'll want to experience some of the best the city has to offer. We have put together a list of the best things to see, do, and eat in the historic city, so take a look at our San Francisco City Guide, and we'll see you at #MKTGNation!
What to See
The Painted Ladies
This might be a familiar scene to any Full House fans. Even though the Tanner's house was down the road a few blocks, you can still see the beautiful row of brightly painted Victorian houses called the Painted Ladies. These homes can be viewed from a picnic at Alamo Square Park. The best time to get a great view — and picture — of these beauties is when the sun is just starting to set. From the Moscone Center, you can take the #21 bus at Market Street and Grant Ave and ride to the corner of Hayes and Steiner Street to catch a view of these houses.
Alcatraz Island
Nearly one-and-a-half miles offshore from San Francisco, the prison on Alcatraz Island might be one of the most storied prisons in America. From Al Capone to Machine Gun Kelly, Alcatraz played host to some of America's most notorious criminals. Today, the prison is open for tours as a museum. Alcatraz Island, itself, is listed in the National Register of Historic Places and declared a National Historic Landmark. The island is home to a seabird colony, rock pools, and the Agave Trail. You can visit the island by ferry; other travelers recommended calling in advance to book ferry tours.
The Golden Gate Bridge
Is there any site more iconic to San Francisco than the Golden Gate Bridge? Once referred to as "the bridge that couldn't be built," the Golden Gate Bridge opened in 1937 and is known as one of the Seven Wonders of the Modern World. So, warm up your Instagram account for photos of this beauty. San Francisco Travel's website has some tips on where to get the best pics of the bridge. Don't forget to use #thatsfbridge and #goldengatebridge.
The Golden Gate State Park
If you are looking for a relaxing experience with miles of nature, the Golden Gate State Park is definitely worth a visit. From lakes to flowers, and museums and attractions, there is something for everyone in the Park. Attractions around the park include The de Young Museum, San Francisco Botanical Garden, Conservatory of Flowers, Buffalo Paddock, Dutch and Murphy Windmills, Strawberry Hill, and many more!
Top 5 Best Places to Eat in San Francisco

From fresh seafood to varying cultural dishes, San Francisco is a city of eats! Check out our top picks for where to eat during your trip to Marketing Nation Summit!
Don of the Bimini Twist
If you're ready for an interesting experience and some of the freshest seafood you will ever experience, visit with Don. Don is a local fishmonger and home cook who has extensive knowledge of locally harvested seafood and sustainable fishing. Book ahead of time on EatWith, as this isn't your usual restaurant experience. At the writing of this article, Don has 12 seats left on April 30 – this is the only open time during the Marketing Nation Summit.
Epic Steak
As one reviewer states, "Best View of Bay Bridge While Eating Dinner," you can have a great meal and see one of San Fran's most iconic sights! Additionally, the restaurant boasts a panoramic view of the Bay, Treasure Island, and the San Francisco Skyline. The menu features modern takes on well-loved steakhouse favorites and focuses on sustainably-sourced meat and seafood.  To learn more, visit Epic Steak online.
La Mar
La Mar Cebicheria Peruana is a great place for Peruvian cuisine. The restaurant is located on the pier and boasts beautiful views and expansive seating areas for a comfortable dining experience. La Mar is host to celebrity chef, Gastón Acurio. Read more about La Mar online.
The Stinking Rose
Do you love garlic? Then you need to visit The Stinking Rose: A Garlic Restaurant. The website claims that all you have to do is "follow your nose" to the restaurant for a unique dining experience. Enjoy the delights of garlic served with California-Italian cuisine. Check them out online.
Pinecrest Diner
Just looking for a good diner? And within a 12-minute walk of the Moscone Center West? You found it. Rated 4-stars all around on TripAdvisor. Plus, it's a 24-hour diner with a huge American Cuisine menu. Visit Pinecrest on the web.
Where to Stay
Marketing Nation Summit is located at the Moscone Center West, so we have come up with a few hotels that are nearby.
The Ritz-Carlton, San Francisco
The Ritz-Carlton at San Francisco sits at the edge of Chinatown. Visitors can enjoy the in-house Spa L'OCCITANE and the contemporary California cuisine at Parallel 37. The Ritz-Carlton is lauded for its exemplary level of customer service. This hotel is conveniently located just under a mile from the Moscone Center West.
InterContinental San Francisco
A short five-minute walk from the Moscone Center, the InterContinental boasts 32 stories and 550 guest rooms, all within minutes from premium shopping areas, restaurants, bars, and attractions.
Marketing Nation Summit
As the countdown marches on, we are so excited to be official Bronze Sponsors of Marketing Nation Summit! The Summit will take place in San Francisco from April 29 through May 2. This year's theme is the Fearless Marketer, and attendees will have the chance to learn and network with some of the best minds in marketing, advertising, and digital transformation. There are also plenty of learning opportunities at University Day, which will feature workshops, presentations, and demos from top Marketo experts.
Marketo expects over 115 sponsors in the expo hall offering insights as well as networking opportunities and a chance to collect some awesome swag along the way! Stop by to see us at our booth to join the fun and pick up some of our FRG Technology Consulting swag. Plus, test your concentration and speed in our Buzzwire competition for your chance to win one of several grand prizes!
If you're looking to hire Marketo professionals, try Candidate Search. Candidate Search gives you the ability to view and filter candidates by salary expectation, relocation preference, skills, industry sector, availability, and other factors to best suit your vacancy. You can also save shortlists of your searches and receive email alerts when new candidates match your criteria.
Searching for a new job? We have hundreds of Marketo jobs in our Job Search. Apply for jobs, or submit your resume and our consultants will help you find your next perfect job. See you at the Summit!