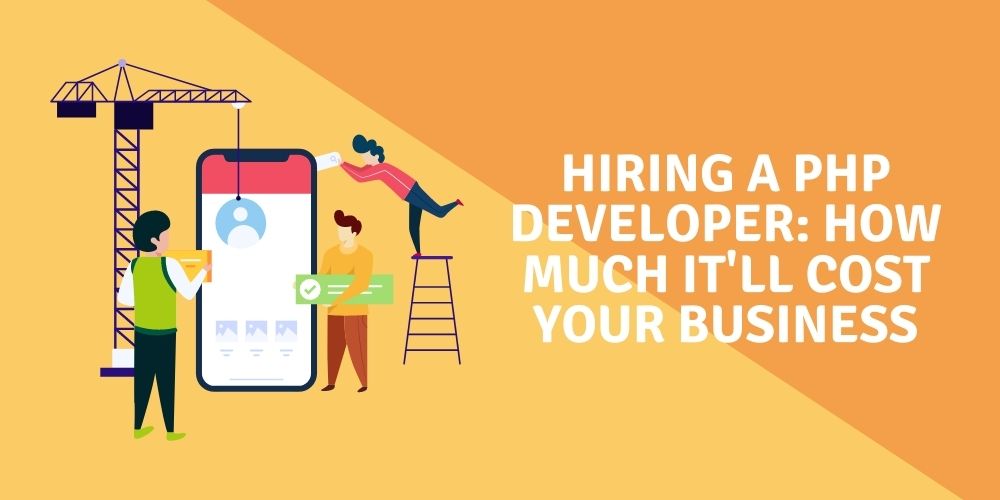 To maintain a strong online presence in the digital era, you might need to hire a PHP developer to build and update your websites or business applications.
If you're thinking about bringing a PHP developer onto your team, whether on a permanent or contract basis, you'll probably want to get an idea of the costs you're likely to face. Finding a developer to match your exact needs won't be easy, you'll need to be flexible in your approach to secure the right person.
PHP still powers 82% of the web, but with the current demand for developers outstripping the supply, you might need to get creative with your search. But before you start your web developer recruitment journey, here's a breakdown of what you'll need to pay to land great PHP talent.
Do I hire a permanent or contract PHP developer?
The first thing you need to work out before you can start totting up potential hiring costs is whether to hire a permanent or contract PHP developer.
If you're building an application from scratch and need someone on your team long-term, the permanent marketplace could be a good place to start.
On the other hand, if you have a specific, finite amount of work to complete, or need to bring in some specialist knowledge then hiring a contractor could be a more cost-effective option.
Both options have their merits, however. Choosing to use a contractor could mean the start of a fruitful relationship where you can bring a developer back into the fold to complete other tasks in future.
Whereas a permanent hire may stick with your business for the long-term, look for promotions within your development team and potentially become one of the leading developers on your roster.
Will I need a specialist PHP developer?
Whether your business is looking to build a team from scratch or recruit for a single developer, knowing which part of PHP market to delve into is a key part of the process.
Predictably, the more niche the PHP skills you need are, the more you can expect to pay for a programmer. Work out whether your business needs a PHP developer who has a particular specialism, like WordPress or Magento, before you start your search.
Take a look at the tools your business is most likely to use during development, and the goals you want to achieve. Do you see yourself moving into the e-commerce sector, for example? Or will you need a specific framework to finish a web application? If the answer is yes, then you might need to find a little wiggle room in your hiring budget so you can land a developer who has the kind of experience you're after.
There will be PHP developers to match your requirements, but beginning your search with a larger number of variables can lead you down the wrong path. Be specific from the outset; this will help reduce time spent examining irrelevant applications.
What will it cost to hire a PHP developer?
Identifying a developer to match your needs is a time-consuming task. Although PHP still powers a majority of the internet, the language isn't as common as it once was, with JavaScript becoming a new business favourite.
PHP developers are very niche web programmers, and it can take longer to find someone who suits your needs: something you'll need to factor into your hiring process.
So if you're ready to take the plunge, take a look at our exclusive insight into the kinds of salaries you can expect to pay a PHP developer in today's market.
When you begin the recruitment process, you'll first need to decide how senior a developer you'll need to complete your development tasks and fill your skills gap.
Junior developers are the first rung of the PHP development ladder. Often recent university graduates, or self-taught developers looking to break into the industry, our salary survey indicates these programmers will likely cost you around £25,000 per year.
Salaries will increase inline with the experience level of a developer, and it'll cost you around £35K if you want to bring in someone more experienced.
If you're looking for a top-ranking PHP developer who'll enter your business at senior level, then the costs will increase even further, so be prepared to stump up around £50k to secure their services.
Developers who specialise in a particular web platform may or may not cost more than a PHP generalist, depending on how complex or niche the platform; a further aspect you'll need to consider before bringing a programmer into your business.
As with every development language, PHP has its different disciplines, and if your business requires someone who specialises in WordPress, you'll likely pay around £25K for a junior developer with that rising to £35k for a mid-level programmer and topping out at £44k for a senior developer.
The use of PHP to power CMS platforms doesn't begin and end with WordPress; if your organisation needs a Drupal developer the starting salary for a junior developer is £23k. But if you require someone with a higher grade of expertise, a mid-level developer will cost you £35k, with a senior developer coming in at £47k.
Businesses who use the e-commerce platform Magento will also need a specialist developer to get the platform in full working order and maintain its performance. The starting salary for a junior Magento developer is £28k, and a mid-level developer will cost you £37K, with the cost rising to £53k for an expert hire.

Geographical PHP developer salary differences
How much you'll pay for your PHP developer will also change depending on your location, as the salaries that developers command will vary depending on the local cost of living, and the health of the marketplace.
Organisations in the North of England will pay around £25k for an entry-level developer, whereas in the South, particularly in areas within commuting distance of London, can expect to pay between £30k and £35k depending on experience.
A mid-level developer in based in the North, or those who have specific experience in Magento or WordPress, will expect a salary of around £30k. If you're going for a mid-level developer in the South, you'll need to offer a more attractive salary to lure them in your dev team; usually somewhere between £40k and £50k.
Top ranking PHP and web developers who specialise in the frameworks like Laravel or Symfony are a rare breed, and to hire them as a permanent fixture you could be looking to pay £40k – £50k in the North, and close to £70k further South.

Hiring a contract PHP developer
Just like permanent PHP developers, how much you'll pay for a contractor will depend on their experience level and their skill set.
If you're looking to bring in a junior developer to perform some simple web tasks, your business will probably pay around £200 per day.
More experienced PHP developers will set you back around £300 per day, and if you need a contractor with a few extra strings to their bow such as JavaScript, ReactJS and Angular JS, day rates can increase to between £400-500 per day.
The contract market for developers who work with PHP on popular web platforms is also growing. A WordPress contractor can range between £200-400 per day depending on their skill level, and Drupal developers' day rates are usually around £400-£550.
Hiring a PHP freelancer who can work remotely can shave off additional expenses you might incur by hiring a contractor, like travel costs. If you do go down the remote route, it's recommended that your new developer comes into your HQ at least once to meet the people they're likely to be working with, and get a feel for the business.
What factors can influence a PHP developer's salary?
If you're a non-tech business, you'll want to know the factors that can have a bearing on the salary you're likely to pay your next PHP developer.
The experience a programmer has with various PHP frameworks including Ajax, Zend and Laravel will have a part to play in pushing their salary higher.
You'll also need to factor in whether a developer has any PHP certifications they can call upon.
Our salary survey found that 32% of developers who responded held an industry recognised certification, and this extra accreditation can validate their experience, leading to an increase in the base salary you'll need to offer.
Can a recruiter help my search?
When it comes to hiring the right developer for your business, it may be difficult to find a person who matches your exact requirements. That's where a recruiter can step in to help solve your problem.
You could be missing out on the best developers if you're not sure where to start. By hiring a specialist recruiter you get access to insight and expertise, and new pools of talent you might otherwise have overlooked.
Searching for new additions to your development team takes time, and that can take your staff away from other projects. Thanks to their experience, recruiters can cut down the time it takes to hire a skilled web developer and save your business a lot of time.
Looking for your next PHP developer? Take a look at our candidate database to find your perfect hire.