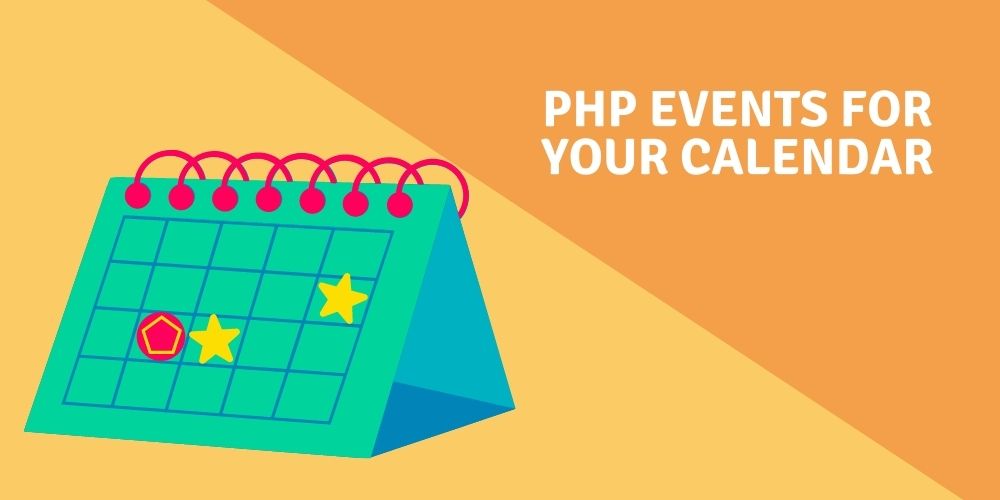 Whether you're looking to expand your knowledge of PHP or learn a new web development language, there are plenty of PHP events and other exciting web conferences you can attend in 2019.
We've rounded up some of the key dates in the PHP and web development calendar and selected the top events where you can learn about the newest web tech, meet developers who work in the same field, and discover the latest and greatest frameworks.
We'll be adding more dates to the list as they're announced, so keep an eye on this page for all the updated details.
Events in the UK
---
20–22 February 2019
The Brewery, London
Set to include over 700 delegates, speakers, and sponsors, the 14th annual PHP Conference will take place in the heart of the City of London. Delivering insightful keynotes into PHP and other related web technology, it's a conference no UK web developer wants to miss.
April
---
3rd April 2019
Boiler Shop, Newcastle-Upon-Tyne
Welcoming developers from all over the world to Newcastle, Frontend NE is back for its second annual conference. With talks from industry experts including Lea Verou, Jeremy Keith, and Ada Rose Cannon, tickets are already on sale for next year's conference.
11–13 April 2019
Ron Cooke Hub, University of York
Taking over the central hub of the Campus East at York University, PHP Yorkshire returns for three days full of workshops and talks with some of the top PHP developers in the industry. Tickets are expected to go quickly so sign up to receive your updates now.
---
International JavaScript Conference
13–15 May 2019
Park Plaza Victoria, London
One of the UK's biggest web developer conferences, the International JavaScript Conference includes talks on web development, architecture, Angular and more. The main conference has four keynotes and talks from over 40 speakers, with the final day of the event providing hands-on workshops for attendees to put what they've learned into practice.
July
---
10–12 July 2019
Business Design Centre, London
Returning to London for its sixth edition, Full Stack 2019 is the go-to conference for all things JavaScript, Angular, and Node. Exploring numerous other web development topics including functional programming, head over to the website now to grab the early bird tickets.
November 
---
Scotland PHP
8–9 November 2019
EICC, Edinburgh
Taking over the Edinburgh International Conference Centre, the Scotland PHP conference is back for its fourth consecutive year. Hosted across two days, the event gives attendees the chance to take in 14 talks presented across two tracks and four workshops where they can enhance their PHP skills.
PHP events in Europe
---
25–26 January 2019
Antwerp, Belgium
A non-profit conference run exclusively by a PHP user group in the Benelux area, the conference has two days of exclusive sessions, presentations, and workshops to educate attendees on all the latest PHP tech.
February
---
6–7 February 2019
Koln, Germany
A new addition to the conference circuit, the C't <webdev> conference is a three-track event that brings together developers from all over the planet to talk about the common issues they face when building a web application.
13–15 February 2019
Amsterdam, Netherlands
Offering the chance for JavaScript developers from all over the planet to get together and share their experience of the web development language, Frontend Developer Love is the largest event of its kind in the Netherlands.
14–15 February 2019
Amsterdam, Netherlands
The largest Vuejs conference in the world, Vuejs Amsterdam is an event targeted at developers who use the development framework in their everyday roles. Offering the chance for Vue.js professionals to network and learn about the framework with fellow enthusiasts, 20+ speakers are expected to attend the two-day event.
March
---
1–2 March 2019
Espoo, Finland
An angular conference targeted at developers who live in the Nordic areas. The community-driven ngVikings conference brings together more than 3,500 active members, Google developers and international speakers in one place to discuss new developments with the framework.
April 
---
12th April 2019
Amsterdam, Netherlands
If you specialise in React.js, then this is the conference for you. Gathering top-class frontend and full stack developers from across the planet under one roof, the event offers attendees a day of workshops, conference talks and finally a tour day.
The slack channel is already open for you to network with fellow attendees, so why not join up and begin your conference journey early.
May
---
10–11 May 2019
Verona, Italy
Hosted over two days, PHPDay 2019 is aimed specifically at developers, IT managers, and technology innovators who work with the programming language. Including talks on agile, Zend, Symfony, Laravel, and Drupal, it's expected there will be 20+ speakers at the event this year.
You Gotta Love Frontend Conference (YGLF)
16–17 May 2019
Vilnius, Lithuania
An event that is built for developers by developers, YGLF is a non-profit conference that covers all of the biggest frontend topics currently emerging in the industry. Back for its fifth annual conference, this year's event will take place in Vilnius, and include two days of talks from industry experts.
21–24 May 2019
Paris, France
The original European React Conference is back with experts ready to share the latest insights on JavaScript. Gathering top web developers under one roof, the event aims to inspire the next generation of React users. It's also the perfect place for React enthusiasts to meet like-minded people and grow their network of web professionals.
June
---
3–7 June 2019
Berlin, Germany
Over a decade old, this PHP developer conference presents talks from experts in the field of PHP programming and other notable web technologies. Allowing large and small businesses from all over the planet to meet in one place, it's the perfect place to grow your developer network.
6–7 June 2019
Amsterdam, Netherlands
A two-day event focused on the use of JavaScript in web development, Amsterdam JS Nation is the premier conference for developers working in the Benelux area. Packed full of talks from industry experts, it gives attendees the chance to get to grips with the latest trends in the industry and gain hands-on experience.
6–8 June 2019
Amsterdam, Netherlands
Back for its 13th edition, the Dutch PHP conference is a great event for mobile, web and PHP developers looking to expand their knowledge of PHP and learn the latest industry tips and tricks.
September 
---
9–10 September 2019
Freiburg, Germany
Hosted in the historic Merchants Hall in the heart of Freiburg, this is the only European leg of the SmashingConf 2019. Taking the structure of one track across two days, the event has 13 speakers expected to attend, and you can pick up your early bird tickets for the event now.
November
---
19–23 November 2019
Amsterdam, Netherlands
Back for its seventh edition, SymfonyCon welcomes the Symfony community to Amsterdam for a five-day learning event. Consisting of two days of workshops, two days of conference events, and a one-day hackathon, the event gives developers from all over the world to celebrate the popular development framework.
December 
---
5–6 December 2019
Paris, France
If you're looking for a conference that covers frontend and backend development, then you need to attend DotJS. Presented over two days for the first times in its history, the first day of the event is all about frontend development, and the second is focused on backend development.
PHP events in the rest of the World
February
---
7–8 February 2019
Honolulu, HI
If you're looking for a conference where you can learn about JavaScript but want to catch some sun at the same time, then head to JSConf Hawaii. Bringing together a list of industry experts, the two-day conference will let you know all of the latest news from the JavaScript world.
Sunshine PHP
7–9 February 2019
Miami, FL
Hosted by the South Florida PHP community, Sunshine PHP is a conference that has events and discussion suitable for developers of every level. Created for developers by developers, the event features a day of PHP tutorials, five keynotes and 30 talks over three tracks.
April
---
16–17 April 2019
San Francisco, CA
Offering developers the chance to learn more about JavaScript, CSS, and frontend workflow, San Francisco plays host the first SmashingConf of 2019. Two full days of events are already planned, with 13 speakers expected to attend, and if you're a conference regular, you'll know to plan your trip for SmashingConf's side events the day before the main event.
May
---
2–4 May 2019
Austin, Texas
A three-day event dedicated to PHP, this conference allows developers to increase their skill level and learn the latest trends of the programming language.
21–23 May 2019
Atlanta, Georgia
This year, PHP[tek] is organised into a series of tracks, each dedicated to teaching you in-depth information about a specific topic. Organising these tracks are hand-selected track chairs, chosen for their knowledge in the field and excellence as presenters, working together to create a unique curriculum to take professionals' skills to the next level.
June
---
25–26 June 2019
Toronto, Canada
The second offering of the SmashingConf heads across the northern border of America to Toronto. Focusing specifically on HTML, Vue.Js, other frontend and UX tech, it follows the same format as the other events organised by this company. Early bird tickets are available now, so book quickly to avoid delay.
July
---
24–25 July 2019
New York, New York
A single-track event packed full of informative talks from industry experts, Laracon is the must-attend event for Laravel developers in 2019.
October
---
15–16 October 2019
New York, USA
The SmashingConf concludes its yearly tour by returning to New York for the sixth time. With one track, two days, 13 speakers, and over 400 expected attendees, its perfect for developers who focus specifically on front-end and UX.
22–25 October 2019
Washington, D.C.
This year's php[world] is once again taking place at the Sheraton Premiere at Tyson's Corner, just a short cab ride from Dulles International Airport. The event has been running annually since 2014 and provides PHP programmers in the Washington, D.C. area with training classes, the conference itself, and post-con events. There's a range of incredibly talented speakers too, so php[world] is definitely one to add to your list!
---
We'll keep updating our list when new PHP and web events, dates, and locations are announced. Get in touch if you feel like we've missed a must-attend event off our list.
Looking for your next PHP career mover? Find a job that suits your exact needs whether you're looking for a permanent or contract position.